Hi, this is Hina. I's getting warmer here but it's still chilly at night. I sometimes drives in fog on my way to home.
Today's car is NISSAN MARCH. Very poplar car in Japan and in the world. This car has been known that it has many different body type. There are MARCH Bolero and MARCH Rumba as classical version, MARCH
Cabriolet as a drop head coupe, Wagon type as MARCH Box.
And this vehicle also is used for a motor sport.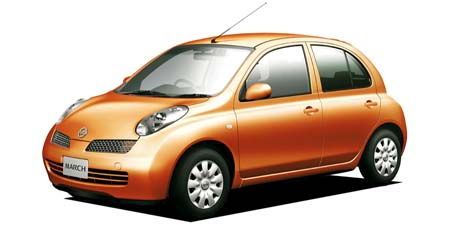 NISSAN MARCH (1989-now)
CVT AND ELECTROMAGNETIC CLUTCH OF MARCH K11
MARCH K11 model (The 2nd generation) have an electromagnetic clutch. It is different with a torque converter type
clutch of latest cars. There seem to be many report of the electromagnetic clutch trouble.
The symptoms of this trouble is noise from the crutch. They said there is some possibility of relapsing even you replaced its CVT.
Some causes are conceivable, but one of this trouble is wearing down of a CVT brush. This part works to operate a electromagnetic clutch. A clutch slips and the vehicle can't move if the part is worn down.
On the other hand, in the case that has already occurred, engine oil leaked from a crank rear oil seal and come into a electromagnetic clutch. If you found heavy engine oil leaking, it is better to check its transmission and clutch carefully also.
POWER WINDOW
MARCH's power window glasses have plastic stoppers on the lower side of each glass to avoid glass fall down. If these stoppers are worn down and crack, they can't hold a glass and it will fall down. There are some possibility of wearing down of the part on all kinds of vehicles.
Unfortunately this plastic part is not provided separately as a brand new. So you may have to buy it as a glass assy if you want to replace it.